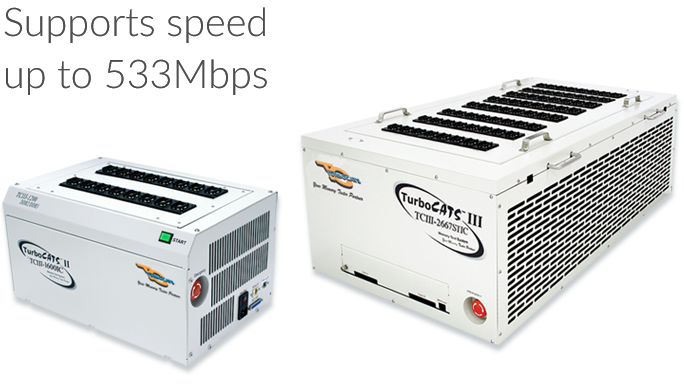 TCIII-1600STIC NAND Flash Test System
16 to 64 Devices Can be Tested in Parallel and At Speed
The TCIII-1600STIC NAND Flash test system comes with 16 to 64 devices. 16 to 64 devices can be tested in parallel to provide faster production. Error logging on Block/Page/Column mode and DQ's is also available. An optional handler interface allows the tester to communicate to a handler that perform ICs sorting and binning after testing.
Customizable Options
2D NAND Flash speeds up to 200Mbps
3D NAND Flash speeds up to 533Mbps
Operating clock frequency up to 266MHz
Configurable for testing 16 to 64 devices in parallel and at speed
Supports IC components, custom load boards and test sockets
Script Code Function (optional)
Script Code Debugger
Traditional test systems provide the user with a variety of AC test patterns to use in their testing process. If a customer wanted the capability to generate a proprietary test pattern, they would have to purchase a high-end automated test system. For most companies this is cost prohibitive and not a viable option.
TurboCATS introduces the new feature called Script Code in its new test system, the TCIII-1600STIC. The customer can now use the script programming language to create a customized test pattern. Once the pattern is created, the Script Code pattern generator/compiler is used to compile the code, then generate the new test pattern.

The Script Code function also contains a built-in compiler and debugger for the Script Code programming, which allows the customer to monitor the timing waveform of the programming algorithm as well as the timing bus transactions. This is all accomplished under the Signal Tap tool.
The new pattern is then imported into the test list and gives the customer a customized pattern with AC (tSU, tWD, tSAC, tRCD, tCL, tAL, tWR, tRP, tRC, tREF, tRFC, etc.) and DC (Vdd, Vref) parameters for testing their product. Additionally, the customer can also create a motherboard test pattern algorithm using the Script Code function. The TCIII-1600STIC performs the test with no-wait states in the operating system.
Utilizing the Script Code function gives the customer a high degree of flexibility in terms of timing bus programming for creating unique Read and Write programming transactions under best and worst case AC parameters scenarios. This can also be used to create a no-wait state bus transaction in the Read to Write cycle.
Combination of Failures
Powerful Integration Tool
Functional Failure: Cell stuck-at, coupling, neighborhood sensitivity and software error faults
Parametric Failure: (AC) Speed timing vs. Vdd threshold, (DC) Leakage and Idd's
Hot-Temperature Failure: System high temperature environment
Heat Chamber (optional)
Fully Configurable and High-efficiency Heat Chamber
Seven-segment Temperature Display
Temperature Setting Option
Temperature Range (85°C - Room Temperature)
Pneumatic Control System
Automatic level-control, manual operation not required
Features
NAND Flash IC
2D NANDFlash speeds up to 200Mbps
3D NANDFlash speeds up to 533Mbps
Operating clock frequency up to 266MHz
Configurable for testing 16 to 64 IC's in parallel and at speed
IC components, custom test sockets and load boards
Supports DC shorts and Leakage testing
Provides DC/ICC/AC parametric tests

Read ID function

Built-in ICC pattern including:

- Sequential read operating, erase operating and stand-by current (TTL) etc.

Over 20 industry AC patterns:

- AC Timing Mode for Async, Sync, Toggle, respectivity

- Supports Block/Page/Column mode

- Read and Mark Bad Block

- Supports cache read, sequential read and copy back
DC Function - Power short and Leakage test
Other
Supports integrate the use with Signal Tap software
Supports built in "industrial standard" and "standard MB program," AC patterns
Optional User Defined Script Code test pattern programming
Optional Manual or Automtated Handler Testing
Optional heat chamber for hot environmental testing from 32°C to 85°C
Minimum PC Requirements
Windows 7 or later and networking interface
AC Power Supply
Software Screenshots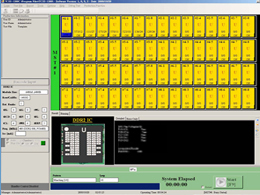 Main Operating Window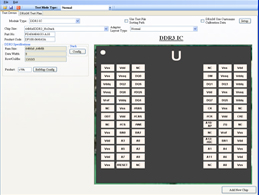 Test Device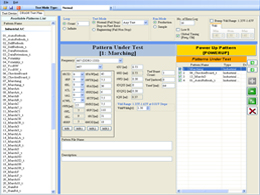 Test Plan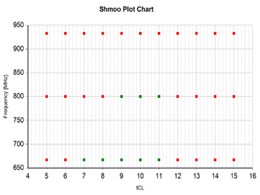 Shmoo Plot
TURBOCATS, LTD. RESERVES THE RIGHT TO CHANGE PRODUCTS, INFORMATION AND SPECIFICATIONS WITHOUT NOTICE. Products and specifications discussed herein are for reference purposes only. All information discussed herein is provided on an "AS IS" basis, without warranties of any kind.