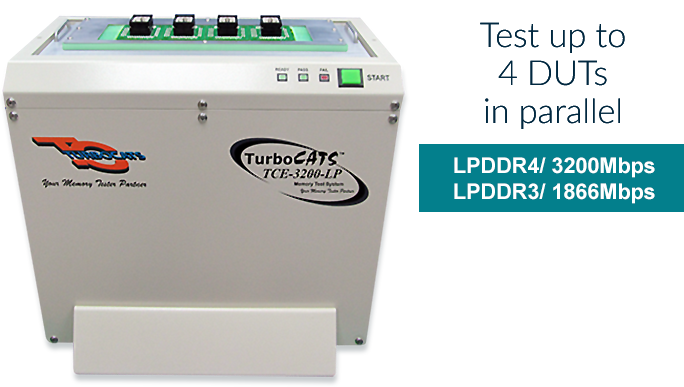 "Lower Power" LPDDR4 & LPDDR3 Device System
Parallel, Multi-DUT testing in an open architecture
Testing LPDDR4 and LPDDR3 devices is made fast and simple with the "Lower Power" LPDDR4/3 TCE-3200LP device system. It can be configured up to 32 sites in parallel and integrated with the customer's selected handler.
The TCIII-3200LP device system can be used as a production tool as well as an engineering tool. To assist manufacturers and integrators, TurboCATS has developed a heat chamber that can be integrated with the TCE-3200LP, LPDDR4 and LPDDR3 device system. This allows the devices to be tested while being exposed to heat conditions.
Customizable Options
LPDDR4 - supports data rate speed ranging from 1600 to 3200Mbps
LPDDR3 - supports data rate speed ranging from 1333 to 1866Mbps
Configurable: 4 to 32 sites in parallel testing
Number of sites for the chassis can be adjusted according to customers' request
LPDDR4/3 x16 bits or x32 Bit Devices
Powerful testing capabilities in a compact design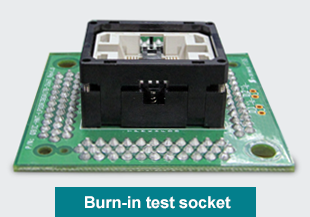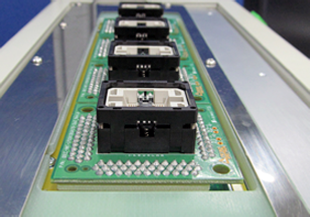 Control Up to 8 TCE-3200LP with a Single PC
Capable of testing up to 32 LPDDR4/3 devices in parallel testing
The Powerful TCE-3200LP and Heat Chamber
All-In-One Design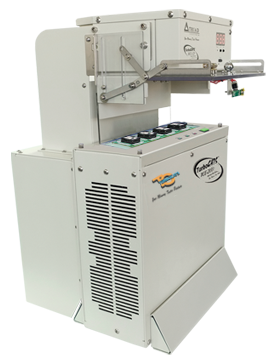 Heat Chamber Specifications
Power Supply
220V, 50Hz (90 - 110% of rated voltage)
Power Consumption
Power-up: 3A, 220V
Normal operation: 1.3A, 220V
Display Method
Red 7 Segment LED Display
Storage Temperature
-20 - 60°C
Ambient Humidity
35 - 85% RH
Temperature Range
25 - 85°C
Features
Test LPDDR4 & LPDDR3 up to 3200Mbps
Supports LPDDR4/ LPDDR3 x16 bits or x32 bits devices
LPDDR4 tests data bandwidth up to 3200Mbps
LPDDR3 tests data bandwidth up to 1866Mbps
Tests up to 4 DUTs in parallel
Enhanced bus cycles at speed testing
Supports high bandwidth data switching
Vdd shorted protection
Comprehensive Industrial AC test patterns
Real time Idd monitoring
Idds tests
Network interface connects up to 8 testers
Specifications
LPDDR4 clock frequencies (MHz): 800, 933, 1600
LPDDR4 data rate (Mbps): 1600, 2133, 2667, 3200
LPDDR3 clock frequencies (MHz): 667, 800, 933
LPDDR3 data rate (Mbps): 1333, 1600, 1866
Data width: 16/ 32
Address depth: 14 Rows, 10 Columns, 3 BAs
Control Signal: 2 CKE/ 2 CSn/ CA0-9
Programmable timing cycles : tRCD, tBL, tWL, tRL, tWR, tRFC, tRC, etc.
Burst Length: 8
ODT Selection support
All Standard Idd's current tests
Software Screenshots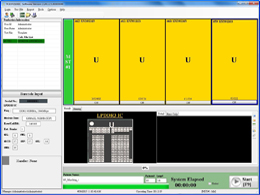 Main Operating Window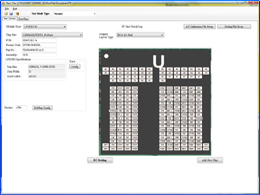 Test File Configuration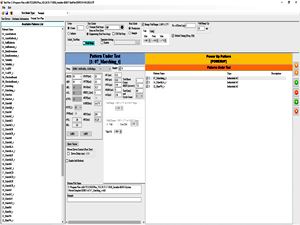 SPD Data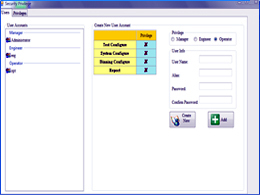 Security Privilege
TURBOCATS, LTD. RESERVES THE RIGHT TO CHANGE PRODUCTS, INFORMATION AND SPECIFICATIONS WITHOUT NOTICE. Products and specifications discussed herein are for reference purposes only. All information discussed herein is provided on an "AS IS" basis, without warranties of any kind.